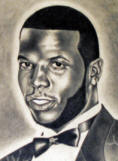 EMIR was established after the tragic murder of my only son Emir Greene. I, Victoria Greene, am the single mother of four daughters and one son. I worked at the Phyla. Prison system as a drug and alcohol counselor/ social worker for twenty years. I had a passion for helping the residents believe that they can live a productive life. It is ironic and a cruel truth that I could not save my only son from the violence that lives in our streets. My only son Emir was murdered March 26th 1997 he was 20 yrs. old. I attended the Grief Assistance Program for support and they saved my life. Through attending these support groups I witnessed the many family members who had lost loved ones to violence. Every week there were new families and the realization that every day, every week someone is being murdered in this city.
To put a human face on homicide I held two conferences on "Drug Related Homicide", in 1999 at Rosemont college and in 2001 at Temple University. With the help of my daughters we presented many  workshops at youth facilities, social service agencies and victim service agencies on the affects of homicide on a family. In 2004 E.M.I.R. received its non-profit status and began working directly with families and community members who have been affected by homicide and violence. Our focus is to treat the trauma to promote healing through education and emotional support.
Read more about the details of Emir Greene here.